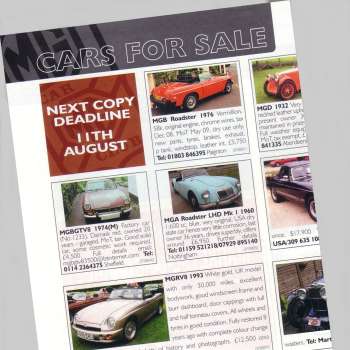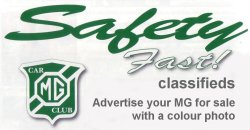 Classified adverts in Safety Fast!
The classifieds section is available for cars offered for private sale by Club members. The full colour Club magazine is published monthly and reaches each member. More

Placing a classified advert
There are two formats - single and double column width - with your colour photo and text. You can download a booking form, compose your advert, quote your MG Car Club membership number (to get the Club member discount rate) and then send it to Hine Marketing by post or email.
Email your booking form & photo
Send your booking form with the text of your advert together with a good quality photo of your MG as a jpeg file to "ads" at Hine Marketing. Email address alongside.

Send your booking form by post
Enclose the booking form with the text of your advert and a colour print of your MG and mail it to Hine Marketing.

Hine Marketing - Regency House, 19 Suffolk Road, Cheltenham, Gloucestershire GL50 2AF Tel: 01242 220070 / 222055 Fax: 01242 222077 ads@hinemarketing.co.uk

See the Safety Fast! classifieds online
You can see the Safety Fast! classifieds online on the MG Car Club website. More