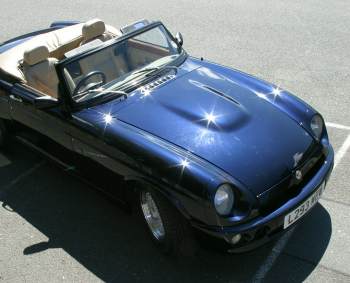 MG RV8 (95 N) reimported Japan spec example in Oxford Blue, with 33,000 miles (supported by the original km and replacement mileometers) and is in excellent condition with no scratches or dents. The elm burr dashboard and door cappings and full leather trim are in excellent condition. The alloy wheels are excellent with no rim damage or corrosion, a very good hood and full tonneau cover. The aircon is working perfectly and a Factory fitted CD player is included. Extras include a professionally fitted roll bar, upgraded Spax shock absorbers all round and an RPI chip. Car has been serviced and maintained by Clive Wheatley with a full service history. Replacement steering rack fitted. New tyres in 2010. MOT until February 2012. Price: £15,250. Contact: Emma Gee on 0111 888888 or by email. Location: Fife.

Note: you can no longer sell the residue of the road tax, it ends on sale and the buyer has to buy a new VED. More

The example above of an advert is in a long form. For a typical classified advert it will be shorter - about half the length. With online adverts on eBay, you can also post photos.

Aims
Keep in mind you want to describe the car fully and accurately, price it to reflect the quality and the fair market value, and use a style which enables the reader to gain a clear understanding of what is offered.
What must you include?
Include the model, year of manufacture and registration letter, body colour, mileage, describe the condition generally and of the key parts, then mention any extras, the service history including any major replacement parts, clarify when the last set of new tyres was fitted and mention tax and MOT expiry dates. Adding your reason for selling helps a buyer understand why the car is up for sale, but this can be very easily clarified in your contacts with callers responding to the advert. State the asking price and then set out your contacts. It is also worth mentioning where the car is located - the county is sufficient. You also need to clarify whether it is a private or trade sale. More
What should I avoid?
Avoid using hackneyed or vague terms like "good car", "good runner", "lovely driver", "first to see will buy" and avoid spelling mistakes and poor English.
Choose a good colour photo
Take a set of photos of a clean car in good light and from each angle. Add a three quarters front photo to show the car at its best. Avoid distractions in the background like dustbins or walls or other cars.
How do I set the price for my car?
Setting the asking price needs care - too high and you may have few responses, too low and you might miss a better price. So do your pricing research by browsing current classifieds. Hagerty Price Guide
MGV8 Price Guide